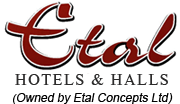 Ikeja: Plot 30, Kudirat Abiola Way, Oregun, Ikeja Lagos
Apapa: 1-15 Ede Street, Off Kofo Abayomi Str, Apapa Lagos
Reserve online or call us on
+234 (708) 006 0160 | +234 (908)143 0282
Room Availability
Latest News
Sisi Oge 2012

Sikeola Olowe, Etal Hotels & Halls Executive Director, wins Sisi Oge Pageant 2012! More Info+
Special Offers
Special Valentine Offers
Lorem Ipsum is simply dummy text of the printing and typesetting industry. Lorem Ipsum has been the industry's standard dummy text ever since the 1500s, when an unknown printer took a galley of type and scrambled it to make a type specimen book... More Info+
Welcome to Etal Hotels
Loved by our cherished guests, Etal Hotels is a friendly place that guarantees everyone a warm welcome. We just want you to enjoy yourself, be yourself and please yourself. After all, that's what staying somewhere special should be all about. We offer a highly personalized 24-hour service, combined with authentic, elegant surroundings of the highest quality that embodies a home away from home experience for those who know and appreciate the best.


Etal Presidential Suite
Supremely comfortable! The choice of Heads of State, celebrities and influential people, our two-bedroom Presidential Suite is the height of luxury.


Etal Dining
Temptations for any appetite...Savour our chefs' imaginative artwork, with the freshness and regional flavour of local ingredients.


Etal Halls
Etal Halls are fully equipped to take bookings for and to host your birthday parties, weddings, seminars, concerts, product launch, AGMs, religious programs.